It's time again for the monthly link up from Amanda at The Lady Okie and Becka at Sunshine to the Square Inch. This month the topic is

A Bad Race or Training Experience and the Lesson I Learned

.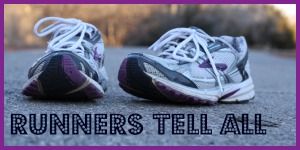 This post is a hard one for me to write. Reflecting on my experience I can't really think of a race or run that stands out as exceptionally bad at the time. Instead, it's more that reflecting on a run has made me realize how bad things were…
J and I before the run.
Several years ago J and I were participating in a local walk/run that we do every year. A couple days before the run my ankle started swelling up. It was annoying and uncomfortable but I did my best to ignore it. I walked a slow, painful 5k, came home, and immediately went back to my normal life.
I look back at that run and wonder what I was thinking. How did I let myself get to that point? I was unhealthy. I was unhappy. I was completely in denial. The sad thing is, it took things getting worse before I decided that I needed to make some changes.
My swollen ankle and dirty socks after the walk.
It may not look bad in the picture but I could only fit into sneakers and flip flops.
Since then a lot has happened. I'm eating better. I'm losing weight (the healthy way). I'm running and doing other exercise. I'm looking after myself emotionally and mentally. All things taken together, I'm learning to take care of myself and live a healthy lifestyle. I feel great now and that to me makes the bad experience totally worth it.
In case you're wondering (because I would be), my ankle is permanently slightly swollen, and it does get larger every now and then when I'm not careful. I know why and unfortunately it's just something I have to live with. As annoying as it can be at times, it's strong and sturdy and carries me well so I've learned to embrace it. I call it my perma-cankle.