I know I don't normally post twice in one day but I had prescheduled the post for this morning and forgot to postpone it. That means you get two in one day. Lucky you.
It's time again for the monthly running link up from Amanda at The Lady Okie and Becka at Sunshine to the Square Inch. This month the topic is
My Favourite Running Gear.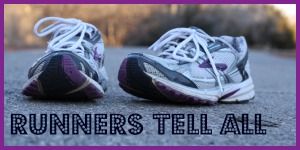 I have a (not so) secret to tell you – when you picture a runner, you don't picture someone like me. I'm not athletic looking or even average. I'm larger than that and when I'm running, I wear my size like a badge. Yes, I'm overweight and yes, I can and do run.
The reason I'm telling you this is because it's hard to find plus-size running clothes that don't cost a fortune. The majority of my clothes comes from Old Navy and I'm very limited in colours and styles. Perhaps this lack of options is why my favourite running gear isn't actually cute clothing, but accessories.
The first thing I must have are my double-layer socks from Running Room. I used to get crazy blisters and these are amazing. I haven't had a single blister since I've been wearing these.
My next must have is my anti-blister stick. I opt for the drugstore brand because I'm cheap and I can buy it locally. As I've stated, I'm a big girl. Chafing isn't pretty but it happens. Thankfully this stuff helps a lot.
Last but not least is my Buff. I really hate the pattern but that's not important. I love this thing and mainly use it as a headband/ear warmer. It doesn't matter how warm it is, I can't stand wind blowing in my ears. When it's really cold and I need a toque I wear it over my neck and mouth.
Now that I've told you my must haves, it's time for a shameless plug. Have you seen my diy workout shirt? It's still a favourite of mine when I'm working out at home.
Want to my other post from the series?