Christmas holidays are here, thank goodness. Don't get me wrong – I love my job and have fantastic students but I believe anyone who thinks teachers get too much time off should come spend a week in a junior high classroom. To celebrate the first evening of holidays I decided to get crafty and try making a bird nest necklace (or two) based on instructions from Sarah Ortega's blog.
The first thing I did was gather my supplies. I actually had everything I needed so that was a bonus. I used craft wire, beads, needle nose pliers and jewelry rings.
I put beads on a long piece of wire and positioned them where I wanted them, using three beads for each necklace.

I twisted the wire to keep the beads in place and then started wrapping the wire. I found the wire hard to keep in place, so I twisted wire in between the beads (around the already circled wire) several times throughout the process.

I continued wrapping until I got the nests as thick as I wanted them. After that I twisted the wire in through the back to secure it and put a round jewelry clip in a gap in the wire on each necklace.
I really like the end result. They're not as neat as the one from Sarah Ortega's blog but I like the messiness. I think it makes them look more rustic. I think I might give one with the scarf I made and keep the other for myself. I can't wait to wear it and show it off!
Shared on: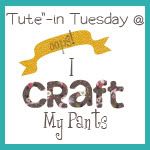 *Some bird nests are now available at my etsy shop. Check out the "my etsy" page for the link.